New Guinea Impatiens
ZeoPro improves plants with less supplemental fertilization
Research Program
The New Guinea Impatien was tested for response to varying levels of soluble fertilization and varying levels of ZeoPro H-Plus incorporated into a peat:perlite growth medium. The tests were conducted cooperatively by Fischer USA, ZeoponiX and SunGro Horticulture in Tagawa research greenhouses in Parker, Colorado.
Rooted cuttings were transplanted into 6.5 inch round pots on June 9, 2000. ZeoPro H-Plus was used at 0%, 1%, 2.5%, 5% and 10% by volume. Three supplemental fertility levels, none, 150 ppm N and 300 ppm N (fed as 20-10-20), were applied on approximately 3 day intervals with watering as needed. Based upon replicated (6X) block experiments, the effects of these 15 treatments were measured in production stage and post-harvest stage. After 60 days, all supplemental fertilization was discontinued to simulate stresses at retail and consumer care.
Research Summary
The photos illustrate the improvement in plant performance for the ZeoPro treatments versus the controls, at harvest date 62 days after planting and in post-harvest 85 days after harvest and last fertilization (147 days after planting).
At harvest time for retail sale, optimal quality plants were judged to be achieved between 2.5%v to 5%v ZeoPro and one half normal fertilization, compared to the 0% full feed control. The 10% ZeoPro treatment without any fertilization performed equivalent to the fully fed control.
ZeoPro also aided in post-harvest maintenance of quality after all fertilization was withdrawn (see bottom photos).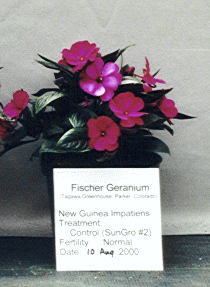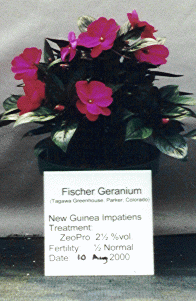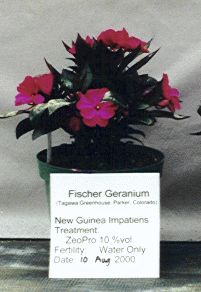 No ZeoPro Full Feed 2.5% ZeoPro Half Feed 5% ZeoPro Half Feed 10% ZeoPro No Feed
62 Days After Planting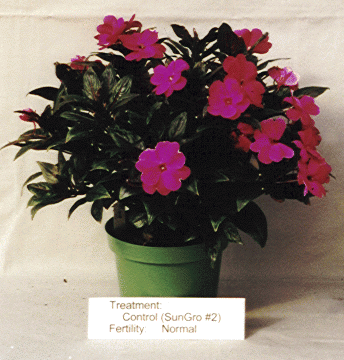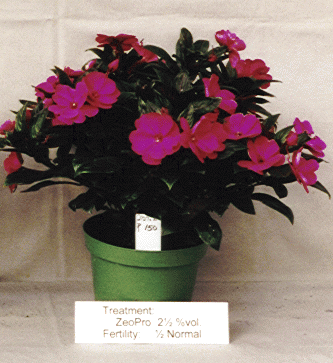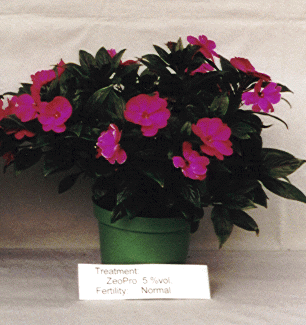 No ZeoPro Full Feed 2.5% ZeoPro Half Feed 5% ZeoPro Full Feed
85 Days After Harvest
Copyright 2000 by ZeoponiX, Inc. P.O. Box 19105, Boulder, CO 80308 USA
(303) 673-0098 Fax (303) 673-9583 E-mail zeoponix@zeoponix.com